RSS Blog & RSS News
| | |
| --- | --- |
| Great IFTTT Recipes | 03/28/2013 |
Great recipes for using If This Than That....

complete article
| | |
| --- | --- |
| RSS.com For Sale | 03/27/2013 |
The asking price? $200,000......

The domain was initially aquired for $125,000.
| | |
| --- | --- |
| What is an RSS Feed Reader? | 03/26/2013 |
The RSS Feed Reader is just one example of many tools that will help you do exactly that – improve productivity in your business so you can do everything you have to and still have some time left for your family at the end of the day!

complete article
| | |
| --- | --- |
| 8 More Google Reader Options | 03/25/2013 |
Google Reader is on its deathbed, slated to meet its end on July 1st. Its demise has been looming in the distance for a while, so this should come as no surprise. And while this is certainly a time of mourning, there's the unseemly business of finding a replacement. Here is a list of platform agnostic alternatives that should help make the transition as painless as possible.

complete article
| | |
| --- | --- |
| How to Export Your RSS Feeds from Google Reader | 03/21/2013 |
By now, the shock that Google Reader is shutting down this summer has probably sunk in. Once you get past the outrage, it's time to figure out how to export your RSS feeds from your beloved reader before it goes dark.

For the fastest, most reliable way to save your RSS feeds from the cemetery of cyberspace, use Googles Takeout service.

complete article
| | |
| --- | --- |
| 12 Google Reader Alternatives | 03/20/2013 |
The scramble is on. With news today that Google Reader is shutting down on July 1st, its users are on the hunt for a solid RSS reader alternatives.

Here are some options you might want to consider if you are a Google Reader user:

complete article
Google Reader is closing in July, IMO this is not a good move for Google.
| | |
| --- | --- |
| Blog Posts That Get Attention | 03/14/2013 |
Blogs are now a dime a dozen, and bloggers need to make their blog posts stand out. Developing a blog following is not as easy as it once was. Learn how to write blog posts that attract readers and retain their attention. Follow these guidelines to cultivate readers...

Blog Posts that Get Attention
| | |
| --- | --- |
| 10 Social Media Fears to Overcome | 03/13/2013 |
Are any of these reasons stopping you from using social media for your business?

complete article
| | |
| --- | --- |
| 4 RSS News Aggregators for Android | 03/12/2013 |
The beauty of smartphones and tablets running Android today can only be appreciated by looking at the apps it offers. While offering many other features, one group of apps available for tablets and smartphones are the so-called news aggregator apps that gives almost instant around the clock news access. If you are the type who wants to know whats happening around the world in an instant, news sources will be at your fingertips by getting any of the news aggregator apps that we will be discussing below.

complete
| | |
| --- | --- |
| Facebook Complaints | 03/11/2013 |
On Monday, Facebook put up a blog post saying engagement has gone up 34 percent on posts from people who have more than 10,000 followers. But Facebook did not share real numbers or metrics, leaving people guessing what 34 percent actually equals.

complete article
| | |
| --- | --- |
| I Work on the Internet Cartoon | 03/08/2013 |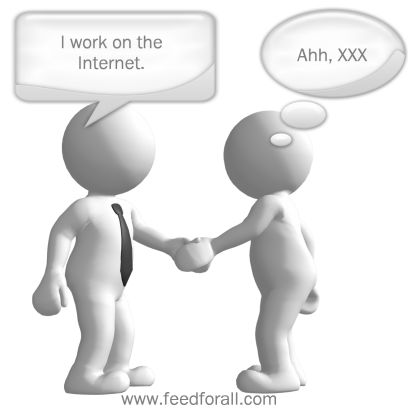 I Work on the Internet Cartoon!
| | |
| --- | --- |
| How Charities Can Make Better Use of Social Media | 03/07/2013 |
Social media is an increasingly effective strategy for charities that want to connect with supporters. A recent survey showed that UK charitable organisations have doubled their supporters on key social media channels in the past year. Yet, for many charities, the vastness of the social media landscape is too daunting to venture into.

At The Clare Foundation, we encourage tenants at our Buckinghamshire charity centre to take advantage of all the opportunities that social media channels offer. Our approach is to encourage charitable organisations to bring established commercial methods, business expertise and entrepreneurism to the voluntary sector. Maximising the effectiveness of social media is one area in which many charities need to catch up with commercial businesses.

Charities rely on public support and so need to find new ways to reach their supporters, potential donors and volunteers. Social media can be one of the most effective ways for charities to build supporters, boost donations, share success stories, network with like-minded organisations, encourage people to sign up to campaigns, recruit volunteers, or demonstrate the impact of their work.

complete article
| | |
| --- | --- |
| Businesses Benefit from Listening to Social Media | 03/06/2013 |
When many financial advisers ask their firms about fully engaging in social media, the answer is usually still a resolute "no" - to Twitter, Facebook, LinkedIn, Tumblr, Pinterest, blogging and just about anything else.

Only a few of the major financial firms, including Morgan Stanley Wealth Management, have started pilot programs to give their financial advisers access to social media, because each interaction has to be monitored by a compliance system to make sure advisers are abiding by regulations.

Advisers themselves aren't convinced that there's enough value for their practices in using social media. Only 19 percent of the 463 financial advisers surveyed by Aite Group, a research firm based in Boston, said they found social media to be useful to their businesses. LinkedIn use was up 10 percent since 2009, but professional use of Facebook and Twitter dropped 10 percent and 8 percent, respectively, and blogging was down 9 percent, according to the Aite study.

complete article
| | |
| --- | --- |
| Great Collection of RSS Scripts for Manipulating RSS Feeds | 03/05/2013 |
Large collection of RSS Scripts for manipulation RSS feeds.
| | |
| --- | --- |
| Keep Up With Your Favourite Social Networks Using RSS Notifications | 03/04/2013 |
Keeping track of the many social networks you are a member of can certainly be a challenging task. Between Facebook, Twitter, Google+, Instagram, Flickr, and more, we all probably have at least two or three accounts that we check on a daily basis. If you're an avid user of RSS readers, one solution to keep up with notifications, is to load them all into Google Reader

complete article
| | |
| --- | --- |
| Measuring Social ROI | 03/01/2013 |
Measuring social media ROI requires identifying social objectives.

Deploying winning social media programs is a top priority for most companies. While its early days with these initiatives, management being management still wants quantifiable value and ROI. How do you determine if your social media program is delivering the goods?

complete article
| | |
| --- | --- |
| Techniscience.com Launch | 02/28/2013 |
TechniScience.com was launched on Feb 19, 2013 as a Web 2.0 social network featuring the latest information in the basic and applied technical sciences of architecture, chemical engineering, civil engineering, communications engineering, control systems engineering, electronics engineering, industrial engineering and mechanical engineering. The website aims to alert visitors in real-time through topic-specific site content and RSS feeds.


complete article

- RSS Specification Feed created by FeedForAll
Blog Post Archive

Current Blog

2013
March 2013 Blog
February 2013 Blog
January 2013 Blog
2012
December 2012 Blog
November 2012 Blog
October 2012 Blog
September 2012 Blog
August 2012 Blog
July 2012 Blog
June 2012 Blog
May 2012 Blog
April 2012 Blog
March 2012 Blog
February 2012 Blog
January 2012 Blog
2011
December 2011 Blog
November 2011 Blog
October 2011 Blog
September 2011 Blog
August 2011 Blog
July 2011 Blog
June 2011 Blog
May 2011 Blog
April 2011 Blog
March 2011 Blog
February 2011 Blog
January 2011 Blog

2010
December 2010 Blog
November 2010 Blog
October 2010 Blog
September 2010 Blog
August 2010 Blog
July 2010 Blog
June 2010 Blog
May 2010 Blog
April 2010 Blog
March 2010 Blog
February 2010 Blog
January 2010 Blog
2009
December 2009 Blog
November 2009 Blog
October 2009 Blog
September 2009 Blog
August 2009 Blog
July 2009 Blog
June 2009 Blog
May 2009 Blog
April 2009 Blog
March 2009 Blog
February 2009 Blog
January 2009 Blog

2008
December 2008 Blog
November 2008 Blog
October 2008 Blog
September 2008 Blog
August 2008 Blog
July 2008 Blog
May - June 2008 RSS Blog
April 2008 RSS Blog
March 2008 RSS Blog
February 2008 RSS Blog
January 2008 RSS Blog

2007
December 2007 RSS Blog
November 2007 RSS Blog
October 2007 RSS Blog
September 2007 RSS Blog
August 2007 RSS Blog
July 2007 RSS Blog
June 2007 RSS Blog
May 2007 RSS Blog
April 2007 RSS Blog
March 2007 RSS Blog
February 2007 RSS Blog
January 2007 RSS Blog

2006
December 2006 RSS Blog
November 2006 RSS Blog
October 2006 Blog
September 2006 Blog
August 2006 Blog
July 2006 Blog
June 2006 Blog
May 2006 Blog
April 2006 Blog
March 2006 Blog
February 2006 Blog
January 2006 Blog

2005
December 2005 Blog
November 2005 Blog
October 2005 Blog
September 2005 Blog
August 2005 Blog
July 2005 Blog
June 2005 Blog
May 2005 Blog
April 2005 Blog
March 2005 Blog
February 2005 Blog
January 2005 Blog

2004
December 2004 Blog
November 2004 Blog
October 2004 Blog
September 2004 Blog
August 2004 Blog


rss2html
RSS to html script to display RSS on a website.

Audio Recording Software
Record and edit audio files with software.



- Blog Feed



- Article Feed