RSS Blog & RSS News
| | |
| --- | --- |
| Good Things to Social Bookmark | 11/25/2008 |
It can be tricky to predict what content will perform well on social bookmarking websites. The interests of our democratic populace are widespread and constantly changing. Webpages, podcasts, and images which are deemed more newsworthy, humorous, or intriguing often steal the spotlight. Knowing how to present content on social bookmarking websites can help internet marketers stand out.

Good Things to Social Bookmark
| | |
| --- | --- |
| Bloglines Outage | 11/24/2008 |
The popular Bloglines RSS feed reader was knocked offline for several hours last Thursday by what was described as a technical glitch.

The Bloglines home page was inaccessible from about 2 p.m. to 5 p.m. Eastern Time on Thursday November 20th.
| | |
| --- | --- |
| HP Tabbloid Converts RSS to PDF | 11/21/2008 |
Hewlett Packard has a new service available that lets you easily convert RSS feeds to personal PDF magazines. The service, Tabbloid turns RSS feeds into deliverable, printable PDFs.
| | |
| --- | --- |
| DoYouFeed Service | 11/20/2008 |
Service transforms any RSS feed into an iPhone friendly site. Check out DoYouFeed
| | |
| --- | --- |
| 50 Ways to Increase RSS Subscriptions | 11/19/2008 |
This article details 50 ways to increase RSS adoption.

Most bloggers love their RSS readers. Not only that, but they also love to gain new RSS readers. It is such a joy when you wake up one day and see that your Feedburner count jumped by 200 or 300, right?
| | |
| --- | --- |
| Holiday Party RSS Icons | 11/18/2008 |
A really interesting collection of RSS Icons has been posted check it out!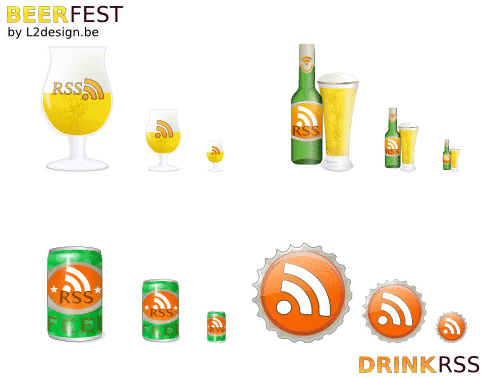 Notify.me is a service that notifies users when something changes that they are watching. You can choose to have notifications delivered to Instant Messenger, SMS, Email, or Desktop Application.

Here are some examples of where Notify.me is used:

Craigslist - Be the first to respond to hard to find listings
Facebook - Find out immediately when something happens on your profile page
LinkedIn - Stay up to date with your professional network
Twitter - Get all your twitter updates in notify.me
Google News - Stay up to date on the latest news you care about
StackOverflow - Quickly respond to programming-related questions to gain reputation points
Woot - Find great deals during the legendary Woot-Off


| | |
| --- | --- |
| Blogger on Death Row | 11/14/2008 |
Rogelio Reyes Cannady dreams of earning a degree that would lift him from his hardscrabble Texas roots to become a paralegal.

But he is most unlikely to realize that hope. On November 19, Texas plans to execute Cannady for murdering three people, two of them teenagers he killed in 1990 and left in a ditch.

and he is blogging about his experience.
| | |
| --- | --- |
| Effective Podcasting Tips | 11/08/2008 |
Many people assume that podcasting is all about audio and fail to acknowledge the writing behind the show. Skilled communicators understand the type of planning required in order to pull off a clean final product. The most memorable and effective podcasts are always well planned. Some of the best podcast shows use a script and follow a structured format. The preparation that occurs behind the scenes is similar to what would take place for a radio show.

Effective Podcast Tips
If you are creating a podcast or video RSS feed you will need to include the appropriate mime type. It is important that the proper format is included. Check out this Mime Type list.
A great resource for manually creating an RSS code for Make RSS Feeds. Walks publishers through the process of creating RSS feed code.
| | |
| --- | --- |
| Display RSS Feeds | 11/04/2008 |
RSS offers webmasters a unique opportunity to display fresh content on websites. While publishing an RSS feed is a great way to generate site interest and increase communication, syndicating and displaying feeds from related relevant sources can also generate interest, increase traffic and improve search engine ranking.

There are a variety of tools that you can use to display RSS on your website, the most popular is probably RSS2HTML a free PHP script that allows you to customize the RSS feed to match the design of your website. Additional details on how RSS feeds can be used to display RSS Feeds as HTML. A list of tools for converting RSS to HTML.
| | |
| --- | --- |
| Danielle Steele Blog | 11/02/2008 |
The famous romance author Danielle Steele has started a blog. There is no RSS feed available though!
| | |
| --- | --- |
| Blogging Platforms Targeted with Denial of Service Attacks | 10/30/2008 |
WordPress has been targeted by hackers in Denial of service attacks. LiveJournal too has been experienced some downtime over the past couple of days as a result of network attacks. The blogging platforms appear to be getting hit hard.

- RSS Specification Feed created by FeedForAll
Blog Post Archive

Current Blog

2008
November 2008 Blog
October 2008 Blog
September 2008 Blog
August 2008 Blog
July 2008 Blog
May - June 2008 RSS Blog
April 2008 RSS Blog
March 2008 RSS Blog
February 2008 RSS Blog
January 2008 RSS Blog

2007
December 2007 RSS Blog
November 2007 RSS Blog
October 2007 RSS Blog
September 2007 RSS Blog
August 2007 RSS Blog
July 2007 RSS Blog
June 2007 RSS Blog
May 2007 RSS Blog
April 2007 RSS Blog
March 2007 RSS Blog
February 2007 RSS Blog
January 2007 RSS Blog

2006
December 2006 RSS Blog
November 2006 RSS Blog
October 2006 Blog
September 2006 Blog
August 2006 Blog
July 2006 Blog
June 2006 Blog
May 2006 Blog
April 2006 Blog
March 2006 Blog
February 2006 Blog
January 2006 Blog

2005
December 2005 Blog
November 2005 Blog
October 2005 Blog
September 2005 Blog
August 2005 Blog
July 2005 Blog
June 2005 Blog
May 2005 Blog
April 2005 Blog
March 2005 Blog
February 2005 Blog
January 2005 Blog

2004
December 2004 Blog
November 2004 Blog
October 2004 Blog
September 2004 Blog
August 2004 Blog


rss2html
RSS to html script to display RSS on a website.

Audio Recording Software
Record and edit audio files with software.



- Blog Feed



- Article Feed